Welcome to our Sound Therapy Workshop page! Immerse yourself in the transformative power of sound and experience the profound benefits it can bring to your well-being.
In this workshop, you'll embark on a journey of self-discovery and healing, guided by our expert facilitator, Anan Haidar, who is passionate about sharing her knowledge of, and experience with, sound therapy. Get to know more about Anan Haider here.
What sets our Sound Therapy Workshop Session apart is the quality of our facilitator and her deep understanding of the healing potential of sound. With her guidance, you'll gain:
Practical knowledge and skills that can be integrated into your daily life
Ongoing well-being and self-care
Whether you're a beginner or have some experience with sound therapy, this workshop offers a safe and nurturing space for exploration of Sound Therapy and all its profound benefits.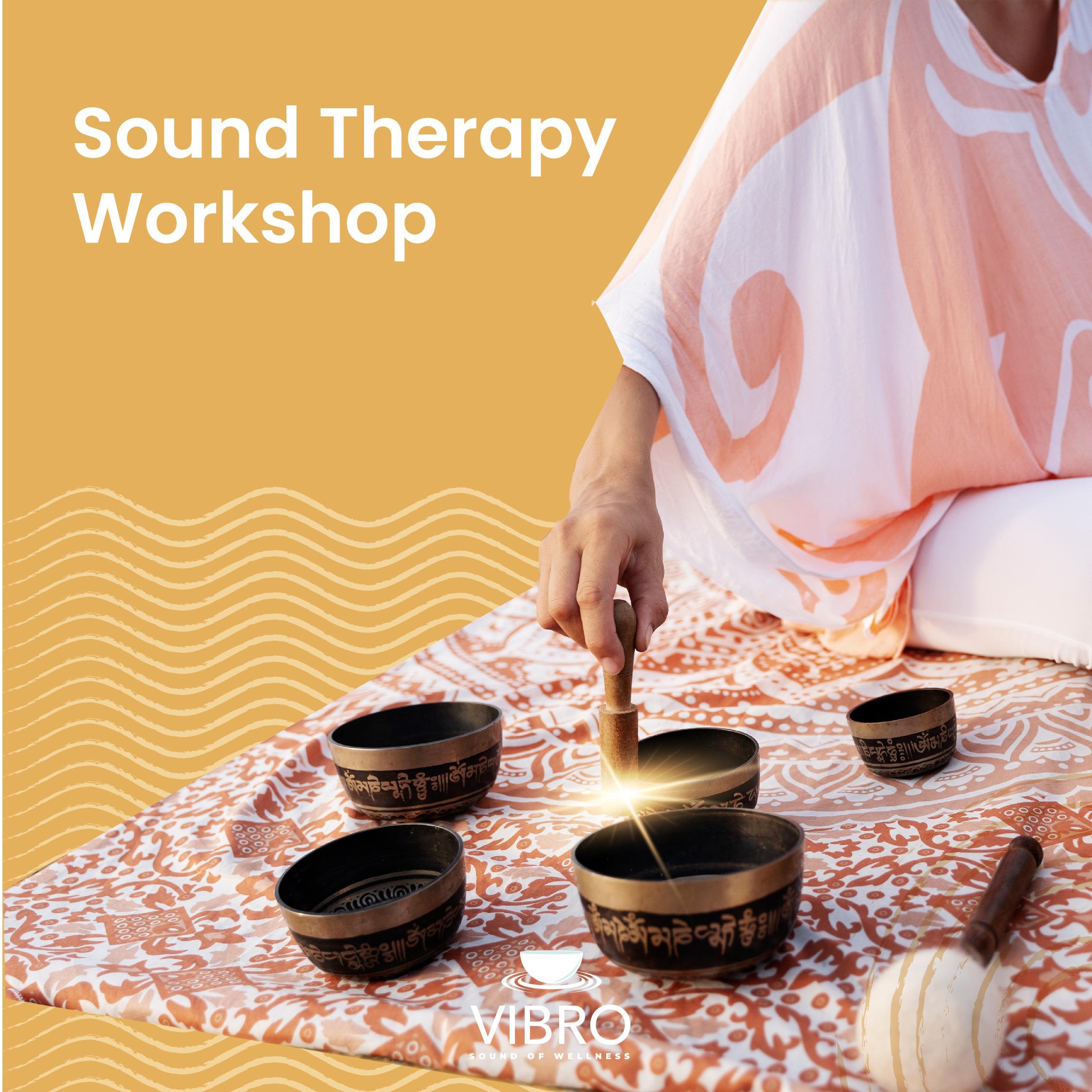 Become a Certified Sound Therapist (Accredited Certification)
Facilitated in-person, and/or online
Two (2) Days, 8 hours per day
KWD 230 (Workshop materials not including)
Limited seats available
Both Kids and Adults
KWD 30 for the fees of the certificate
Certified by the International Vision Institute for Training and Coaching.
If you're looking to deepen your understanding of sound therapy and become a certified practitioner, our Accredited Certification Workshop is perfect for you. Immerse yourself in a transformative 2-day workshop exploring the healing power of sound. Choose between Online or Offline sessions. Join us to gain practical tools and knowledge in sound therapy. Limited spots available. Reserve your place today and unlock the potential of holistic well-being through sound.
Discover the transformative world of Sound Therapy, Chakra Cleansing, and holistic practices through our captivating workshop. This immersive experience not only certifies your knowledge of these concepts but also equips you with practical skills that can be integrated into your daily life.
Please note that completion of this workshop does not qualify you to practice Sound Therapy or attempt healing on others. However, it serves as a vital introduction to the realm of Sound Therapy, allowing you to gain a solid foundation before delving into more advanced courses.
Whether you're seeking to quench your thirst for knowledge and self-awareness or have aspirations of becoming a certified sound therapist in the future, this workshop is the ideal starting point. Take the first step towards uncovering the profound world of sound therapy and embark on a transformative journey of personal growth.
Extensive Sound Therapy Accredited Course
Five (5) Days, 2 hours per day
KWD 350
Discover the transformative world of sound therapy with our Sound Therapy Practitioner course. This  course offers in-depth training and practical experience, and is designed for individuals aspiring to become certified sound therapy practitioners.
Over the span of 5 days, with 2 hours of daily immersive sessions, you'll delve into the theory and practice of sound therapy. On Day 1, you'll gain a solid theoretical foundation, exploring the principles and concepts that underpin this holistic healing modality. Days 2 to 4 will be dedicated to hands-on practice, where you'll have the opportunity to experience and apply various types of healing techniques.
Our course is certified by the prestigious International Vision Institute for Training and Coaching, ensuring that you receive high-quality instruction and guidance throughout your learning journey. To become a certified sound therapist, students are required to complete 20 healing sessions, offered free of charge, to hone their skills and gain practical experience. This prepares you to confidently provide professional sound therapy treatments and embark on a fulfilling career in the field.
As a certified sound therapist, you'll have the freedom to work in various settings, such as private studios and yoga studios. Your skills will be highly sought after worldwide, allowing you to practice and make a positive impact wherever you go. Invest in your future and enroll in our course today. The fee for the certificate is 30 KWD, validating your expertise and opening doors to a rewarding and fulfilling career in sound therapy. Don't miss this opportunity to embark on a transformative journey of healing and personal growth.